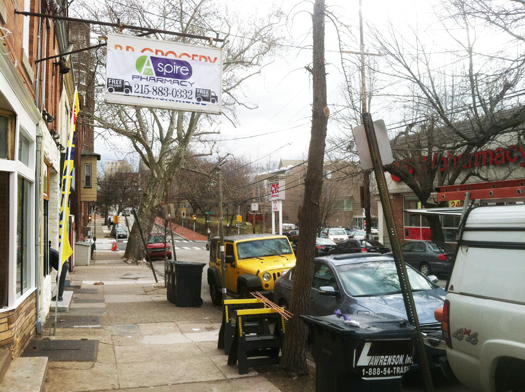 Some of you may have noticed a new pharmacy next to recently opened Café Renata and just across the street from CVS near 43rd and Locust. So here's the scoop – Aspire Rx, a smal independent pharmacy, has relocated to Locust from 45th Street.
OK, at first this seems like a really bad idea – small, independent pharmacy moves across the street from giant pharmacy/store. Folks on some local West Philly list-servs thought the idea seemed so bad that it must be some kind of front for something else.
It's not. Aspire's owner, Hetal Chudasama, said Aspire offers things that CVS doesn't, such as compounding services, lower prices and serious customer care. They also offer free delivery, pet medications and some adult vaccines. She moved Aspire from 45th Street to Locust to the former location of a small Asian grocery to take advantage of the ample foot traffic.
By the way, Chudasama, a resident of West Philadelphia for eight years, knows what she's talking about when it comes to her big box neighbor. After graduating from the University of the Science's Philadelphia College of Pharmacy, she worked at – where else – CVS.
Aspire is open Monday through Thursday from 9 a.m. to 6 p.m., Friday 9-3 and Saturday 10-3. It's closed Sundays.