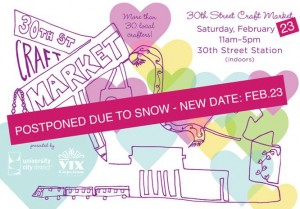 The University City District and VIX Emporium are teaming up to bring  a new cool event to West Philly. The inaugural 30th Street Craft Market is happening Saturday, Feb. 23, 11 a.m. – 5 p.m., and we wanted to let you know more about the participants. It's an impressive list of super talented artists and crafts people from all around Philly who will offer unique, handmade items such as jewelry, pottery, cards & prints, knits, glassware, natural soaps & body care supplies, children's items and more. Here's the full list of participants (you can see their profiles here).
Art Star
As The Crow Flies & Co.
The Captain's Vintage
Dop Dop Designs
exit343design
J4 WoodWorks
Jen McCleary Art & Design
joeyfivecents
Ken Beidler Ceramics
Krista Peel
The Lettered Set
Lindsay Gilbert Glass
Malachy Egan
Manic Muse
Mellifera Candles
Nice Things Handmade
Nicole Rae Styer
Old Blood
Phea Jean
Precious Meshes
Punk RocKnits
Rachelink
Sardine Clothing
Seampoets
Stitch Prism
Suzanne Francis
Tadpole Creations
Threet Ceramics
Volta Organics
VIX Emporium
Wrong World Ceramics
The market will take place indoors, at the 30th Street Station (that's something unusual for America's third busiest train station!), so you don't have to worry about the cold weather and can spend more time shopping.
For more information, check out the event's Facebook page or visit VIX Emporium's or the University City District's websites.