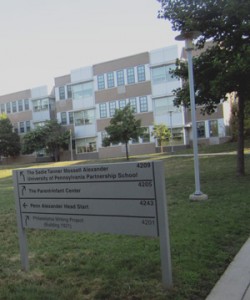 Parents of some of next year's prospective Penn Alexander School kindergartners will rally outside a University of Pennsylvania meeting on Wednesday to persuade the School District of Philadelphia to open up more spots in the school's kindergarten and first grade. The rally comes as the District confirmed that the lottery was held and that parents would be notified by mail this week.
A group of parents of "kindergarten eligible students" are organizing the rally as Penn's University Council meets. A representative of the group, a Penn professor, will speak during the "open forum" portion of the meeting, which allows members of the Penn community to raise issues. The meeting is only open to people affiliated with Penn and top Penn administrators are expected to be present. The rally is scheduled to begin at 5:30 p.m. outside of Houston Hall at 3417 Spruce Street.
A Penn-affiliated parent who lives in the Lea School catchment is scheduled to speak on "partnering with local public schools beyond Penn Alexander."
Penn Alexander rally organizers are asking that kindergarten class sizes, currently capped at 18, be increased to accommodate all registered students. Penn provides funding to the school to help keep the class sizes smaller than the District maximum of 30 seats per class.
"We request that seats be added to accommodate 22 Kindergarten students per class," the rally organizers wrote in a statement.
The group also reiterated its opposition to the registration lottery, which was held by computer last week. According to the statement, 88 children registered for kindergarten, which includes some Head Start and special needs students who receive automatic enrollment. The increase to 22 seats would ensure admission for all students who registered.
"Based upon our group's investigation we believe the existing kindergarten and first grade classrooms are large enough and can support more children," the statement reads. "We believe that through a natural attrition, the class sizes for first grade will never reach close to 30."
The group is also pressing the district to release details about how the lottery was conducted. So far district officials have only told parents that they will receive notification of their child's status in the mail this week.
In an e-mail to prospective kindergarten parents, district spokesman Fernando Gallard wrote:
"The letter will advise if your child is admitted to the 2013-2014 class or if your child is on the waiting list. If an applicant is on the waiting list, a number advising the order on the waiting list will be cited in the letter.  The letter also asks applicants on the waiting list of their opportunity to seek enrollment at Lea School."
– Mike Lyons