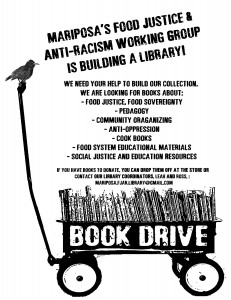 Mariposa's Food Justice and Anti-Racism Working Group (FJAR) is building a library and seeking donations of books, zines and articles relating to food justice, organizing, pedagogy, gentrification, racism, and anti-oppression. Donations of cookbooks and primers about the food system and nutrition for both youth and adults are also welcome.
If you have books you'd like to donate, please drop them off in the store (4824 Baltimore Ave) or contact Mariposa for a pick-up by emailing: mariposa.fjar.library@gmail.com.
The library is expected to open this spring and materials will be available (during designated times) for borrowing by both staff and members.