(Editor's Note: We were not able to attend this meeting between the district and parents at Penn Alexander, but we have received minutes from the meeting that we have corroborated with several people who did attend. Please feel free to write us with additional information at editor – at – westphillylocal.com)
A Philadelphia School District official told a group of parents this morning that a proposed lottery for limited kindergarten spots at the Penn Alexander School will be conducted in late February. That decision follows parent requests that the district find a way to accommodate all the kindergarten students in the school's catchment.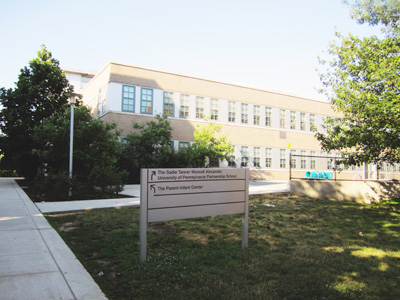 The announcement follows an inspection of the school by district officials to determine whether more kindergarten space could be added.
"There are no more opportunities for growth in this building," said Karen Lynch, the district's chief of student support services. "This building is at capacity. Any further opportunities for growth exist outside this structure."
Some parents asked for a temporary increase in kindergarten enrollment caps, currently set at 18 per classroom, to accommodate students this year. The district refused. The district will also not offer automatic enrollment to siblings of currently enrolled students, the so-called "sibling preference" that many parents requested.
Lynch announced two important dates for parents:
• The deadline for applications for the computer-run lottery will be at the close of business on Monday, Feb. 11.
• Parents who apply for the lottery can simultaneously apply for a voluntary transfer request to attend another district school (if they are unsuccessful in the lottery) by Feb. 15. Voluntary transfer requests are typically due in November.
Penn Alexander currently has four kindergarten classes with a maximum capacity of 18 students each for a total of 72 spots. Kindergarten spots at Penn Alexander guarantee admission to following grades. Seats in those grades are also capped through an agreement with the University of Pennsylvania, which provides additional funding to the school.
Kindergarten spots are guaranteed for students who have enrolled at PAS through Head Start and students who have special needs documented in an Individualized Education Plan (IEP). Those students do not have to participate in the lottery.
Lynch told the parents that there are currently 82 students applying for kindergarten spots, including those through Head Start and those with IEPs.
The decision to switch to a lottery was initially made hours after dozens of parents began lining up in front of the school for kindergarten registration, a process which has become sort of a ritual for parents with young children who live in school's catchment area. This year the line started four days early, prompting Superintendent William Hite to announce that a lottery will determine enrollment in the Fall. The lottery was originally scheduled for April, which left parents little time to make alternative school arrangements.