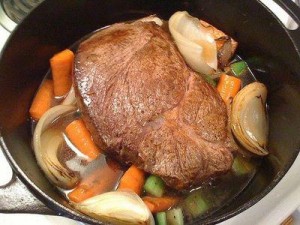 Pssst. Hey, West Philly meat eaters! This Saturday, March 2, there's a great opportunity to try meat from local farms and help neighborhood schools. Philly CowShare, a West Philly-based company that  sells "shares" of locally-raised, grass-fed beef and pastured pork, is hosting a one-day meat sale at the Calvary Center at 48th & Baltimore, from 2 – 6 p.m. A portion of the proceeds from the sale will go to the West Philly Coalition for Neighborhood Schools and Penn Alexander School's HSA.
The sale offers a one-stop shop where you can learn about participating farms, buy a package of beef or pork to cook at home and even get some recipes! The following items will be available for purchase: steaks, roasts, ground beef, no-nitrate bacon, sausage, pork chops, and sampler packs (pre-orders for sampler bundles are available online). All meat is individually packaged, labeled, and USDA certified.
Philly CowShare helps connect "communities of responsible farmers and butchers with urban communities who simply want to eat well." The company sells bundles of beef called CowShares and bundles of pork called PigShares that are available to purchase individually and as a group. Philly CowShare challenges the consumer to eat healthy meat and to eat meat more mindfully and wants to make sure that "the farmer and butcher are paid fairly and the animals are raised in accordance with their nature and in harmony with the land."
To learn more about how Philly CowShare operates, visit their website or Facebook page.