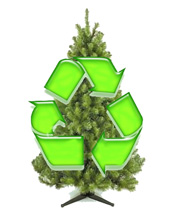 Happy New Year, everyone! Now many of you will start thinking about what to do with your Christmas tree. Of course, you can just take it outside on your trash pick-up day and it will be collected by the city. But, if you want to get rid of your tree in a more eco-friendly way, here are some options.
- Christmas Tree and Electronics Recycling Day – Saturday, Jan. 5
Bring your tree to Clark Park (43rd & Chester) on Saturday from 10 a.m. to 4 p.m. and it will be turned into wood chips instead of landfill. The mulch produced from the recycled trees will be used in neighborhood parks and gardens. Suggested donation is $10 per tree which will go to support UC Green and its neighborhood greening efforts. For more information, please contact Sue MacQueen at 215-573-4684 or suemacqueen@ucgreen.org.
You can also drop off your used household electronics, including computers and anything else with a plug! This is a great opportunity to safely dispose of any potentially harmful materials. For more information, contact Seth Budick at 215-243-0555 or seth@universitycity.org. 
- If you want to keep your tree a little longer please keep in mind that the Streets Department starts accepting trees for composting and mulching beginning Monday, Jan. 7. You can drop off your tree at one of sanitation convenience centers through Saturday, Jan. 19. The Southwest Philadelphia Sanitation Convenience Center is located at 3033 S. 63rd St., near Passyunk Ave. For more information call 215-685-4290 or visit this page.