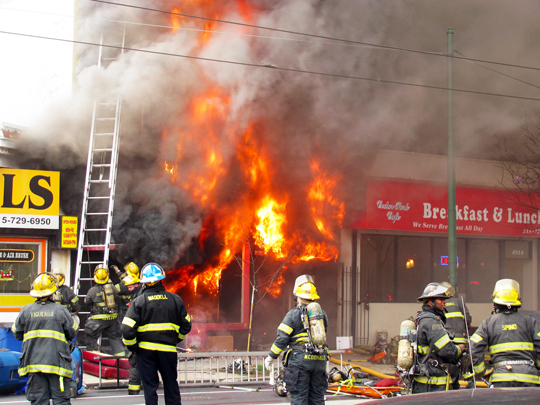 We're sad to report that this afternoon a fire destroyed Algernong Allen's Elena's Soul, a popular restaurant and bar on the 4900 block of Baltimore Avenue. Fortunately there were no injuries in the fire, which damaged all three floors of the building at 4912 Baltimore Avenue.
The fire, which started at about 1 p.m., reportedly caused some damage to the Cedar Park Cafe and Gary's Nails, the two businesses on either side of Elena's. The cause of the fire has not yet been reported.
We'll report more details as we get them.
Neighbor Shenid Bhayroo sent the video below. It was shot at about 2:45 p.m. A reader named Ashley sent the photo. Thanks Shenid and Ashley.