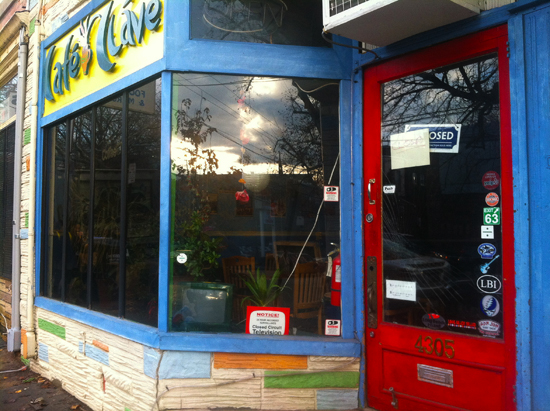 Update: A former employee said last night that Café Cláve will close permanently. This is sad for a couple of reasons. First, they had good coffee and a good atmosphere that contributed to the diversity of cafés in the neighborhood. Secondly, that building has been in their family for a long time, since Gooch's father, Carlos, ran an electronics shop in the same space in the early 1960s. Carlos is still listed as the primary owner of the building though he died several years ago. Café Cláve was, in a way, a homage to Carlos and Norma, who were well-known on the Salsa dance scene in Philadelphia.
Many readers have been asking what has happened to Café Cláve, the popular Cuban-themed coffee shop at 4305 Locust Street that has been closed for several days. It's not good news. Shop co-owner Armen Terzian, known by many as "Gooch," has been charged with a variety of crimes stemming from an incident late last month.
Terzian, 41, has been charged with aggravated assault, ethnic intimidation, possession of an instrument of crime, terroristic threats and simple assault. He allegedly brandished a machete and uttered several racial slurs during an argument with another man who was cleaning the street outside the shop on November 28.
Police issued a warrant for Terzian's arrest soon after the incident. Terzian, who was on probation, turned himself into police on Sunday, according to court records.
His preliminary hearing is scheduled for December 24. No word on when (or whether) Café Cláve, which Terzian co-owns with his mother Norma, will reopen.