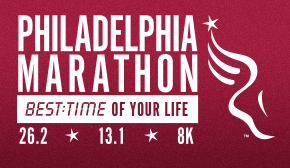 In preparation for the 19th annual Philadelphia Marathon, city officials have issued a traffic and parking advisory for many parts of the city. Delays are expected and motorists are advised to avoid these areas. Some portions of West Philly will be affected too.
Some of the major areas impacted include:
– The inner lanes of the Benjamin Franklin Parkway on Friday, November 16 through Sunday, November 18.
– Citywide along the 26.2-mile route of the Philadelphia Marathon on Sunday, November 18
The following streets will be closed at 6:45 a.m. on Sunday, Nov. 18, and will reopen, as runners pass through the race course. All race routes will remain closed until 4 p.m.
– 21st Street, from Spring Garden to Arch streets
– 22nd Street, from Spring Garden to Arch streets
– Benjamin Franklin Parkway, from 22nd to 16th streets
– Arch Street between 16th to 4th streets
– 4th Street Arch to Vine streets
– Race Street, from 4th Street to Columbus Boulevard
– Columbus Boulevard (Southbound lanes), Vine Street to Washington Avenue
– Southbound off-ramp, from I-95 at Washington Avenue
– Washington Avenue, from Columbus Boulevard to Front Street
– Front Street, from Washington Avenue to South Street
– South Street, Front to 6th streets
– 6th Street, Bainbridge to Market streets
– Chestnut Street, 6th to 34th streets
– 34th Street, Chestnut Street to Girard Avenue
– Lansdowne Drive, Girard Avenue to South Concourse Drive
– South Concourse Drive, Lansdowne Drive to West Memorial Hall Drive
– West Memorial Hall Drive, South Concourse to Avenue of the Republic
– Avenue of the Republic, West Memorial Hall Drive to Centennial Circle
– Old Lansdowne Drive to the Sweetbriar Loop
– Black Road
– Martin Luther King Drive
– Kelly Drive
– The Falls Bridge
– Ridge Avenue, Schoolhouse Lane to Manayunk Avenue
– Main Street, Ridge Avenue to Green Lane.
Update: Here's a link to a map showing the streets closed during the marathon.
Source: Philly Police Blog