UPDATE (2:45 p.m.): Philadelphia public schools will be closed tomorrow, Superintendent William Hite announced. Also, SEPTA will reinspect tracks and routes after the storm. Service is canceled for Tuesday morning.
As of 2 p.m., there haven't been any power outages reported in West Philly. Please check the PECO Power Outage map for updates. What appears to be a problem already is leaf-clogged street gutters. If you have one near your home, you might want to take a minute to clear it.
We included some storm prep tips in a post yesterday. You can find that here. At the end of this post we have some important phone numbers and an embedded #sandyinphilly Twitter feed, which many local media outlets are using to keep people updated.
Here are some other closures for Tuesday:
• Public schools are closed, Superintendent William Hite announced.
• No SEPTA service Tuesday morning.
• City offices closed.
• Courts closed.
• City trash pickup scheduled for Tuesday has been canceled. If Tuesday is your day, hold off until next Tuesday.
• Most Amtrak routes in the Northeast have been cancelled. They have good info on their Facebook page here.
If you need some last-minute supplies, here are some businesses that are open as of about 2 p.m.:
• Mariposa Food Coop is open and just got in a big produce and bread delivery from Four Worlds Bakery. (Update: Mariposa is closing at 5 p.m.)
• Milk and Honey Market is open at 45th and Baltimore.
• Supremo Shop n' Bag on Walnut Street between 43rd and 44th plans to stay open until 3 p.m.
• For halal supplies, Makkah Market at 4249 Walnut St. is open.
• CVS at 43rd and Locust will be open indefinitely. The manager there said they will be open until the electricity goes out.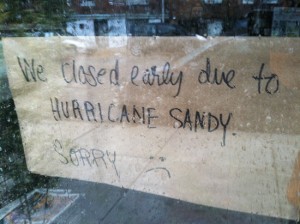 • Green Line Cafe and Earth Cup are open. (Update: Earth Cup has reportedly closed)
• The Gold Standard will be serving their weekend brunch today and tomorrow.
• Fu-Wah Market is open at 810 S. 47th St.
• The Dollar Store on 48th between Spruce and Pine is open and they have a pretty good selection of candles remaining and a bunch of flashlights.
If you know of some businesses that should be on the list, leave a comment below, tweet us at @westphillylocal or drop us an e-mail at: editor@westphillylocal.com.
If you see animals in need or find pets during/after Hurricane Sandy, please immediately contact:
PhillyPAWS
[tel: 215-238-9901/phillypaws.org]
PSPCA
[tel: (215) 426-6300/pspca.org]
ACCT
[tel: (267) 385-3800/acctphilly.org]
Some important numbers:
PECO Energy Customer Service: 1-800-494-400
PECO Energy Emergency Hotline: 1-800-841-4141
Philadelphia Water Department (PWD): 215-685-6300
Philadelphia Gas Works (PGW): 215-235-1212