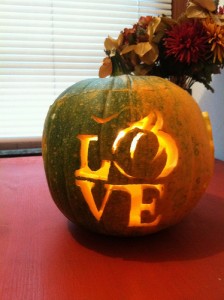 Reminder: Our 2012 Pumpkin Carving Contest is underway and we are looking forward to receiving snapshots of your jack-o-lanterns. Please email them to: contest@westphillylocal.com. The contest is open through October 29.
Here are more details:
The 2nd Annual Pumpkin Carving Contest runs from October 15 through October 29. All ages are welcome to participate. Prizes are supplied by these West Philly businesses: Curio Theatre (2 tickets), Dock Street Brewery (a gift card), Four Worlds Bakery (a gift card), Green Line Cafe (a gift card), Honest Tom's Taco Shop, Lil' Pop Shop, Locust Moon Comics (a copy of BATMAN: The Long Halloween), Mariposa Food Co-op (a goodie basket), Penn Museum (two general passes to the Museum + a MAYA 2012 tee + a copy of the latest issue of Expedition Magazine), Sabrina's Cafe (a gift card), and VIX Emporium (a gift card + tote bag).
Here's how it works:
Submit a snapshot of your pumpkin by email (contest@westphillylocal.com) that includes your name, address (West Philly residents only please), and age (if you are entering the Kids category). Entries from kids 12 and under will also be entered into the Kids category. Be sure to get a good photo that shows off your pumpkin's best features.
Winners will be selected in the following categories:
Scariest
Funniest
Kids (12 and under)
Best Philly-Themed
Readers Choice (grand prize)
The entry deadline is 6 p.m. on Monday, October 29.
The winners will be announced on November 1. Voting for the Reader's Choice will run between October 29 and October 31. Note: One entry per person. We'll put all photos in a gallery.