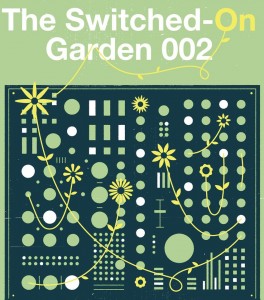 Don't miss this great opportunity to engage with the environment and the history of one of the nation's oldest botanical gardens. Data Garden's bio-interactive art and music festival, The Switched-On Garden, returns to Bartram's Garden on Sunday. From 2 to 8:30 p.m. head to Bartram's and connect with it through live music, performance and sculpture that blurs the distinction between biological and digital worlds. This is a free event and everyone is welcome. Here's a full line-up:
Live Performances

KING BRITT (Album Release Concert)
Philadelphia producer, composer, performer and curator of electronic music will explore sound design, noise and ambient.
SPACESHIP ALOHA (EP Release Concert)
Philadelphia producer/composer/percussionist Christopher Sean Powell (Man Man/Need New Body) teams up with Data Garden to bring you the maiden voyage of Spaceship Aloha.
ALLEN CRAWFORD with LAURA BAIRD, DINO LIONETTI (of Cheap Dinosaurs) and GRETCHEN LOHSE
A sonic essay inspired by Bartram's Garden
COSMIC MORNING
Renowned visualist and educator Don Miller presents a special light show that revisits the roots of modern VJ culture.
DJ RYAN TODD
International crate digger and electronic music producer Ryan Todd will provide natural grooves.
Bio-Interactive Sound Installations (over 46 acres!)

STEVEN LITT: CRUDBLOCKS
An interactive, playable robotic drum sequencer making percussion instruments out of natural materials plucked from Bartram's Garden.
DATA GARDEN: DUET
Musical compositions generated by the electronic impulses produced by two tropical plants. Plants' data interpreted by humans with the help of computers has been employed to organize sound into beauty perceivable by the human ear.
LESLIE ZACHARKOW AND KYLE STETZ : FLORA CATALOGUS
Nature assumes the role of John Bartram in this interactive sound collage. How would a solitary tree choose to catalogue its experience with us? Talk, sing, hum and make your presence known; hear how the tree responds.
SAM CUSUMANO: ELECTRICITY FOR PROGRESS
Sam Cusumano presents Electricity for Progress, an interactive educational experience in electronics. Through direct interaction with modified children's toys and custom circuits, Guests are invited to explore and ask questions about the common electronic objects in their world. Understand how your tools work!
DAN SCOFIELD AND PATRICK PROCTOR: NEWEST SOUNDS OF NATURE
Newest Sounds of Nature is an 8-channel audio installation that allows participants to collectively improvise and manipulate sounds of the environment. Different plant species represent various sounds of nature, including rustling leaves, snapping branches, rambling brooks and chirping birds that are re-mixed to create a spatial, atmospheric experience ranging from the sublime to the cacophonous.
TIM EADS & AUSTEN BROWN: ENVIRONMENTAL ONTOLOGICAL RESEARCH DEVICE.BETA.V01 (EORD.BETA.V01)
Natural sounds will be kinetically driven by sculpture, processed and sampled, and triggered by natural occurrences. Three megaphone like objects will be placed in various locations in the Garden in a triangular fashion. Each of the megaphones will project the collected sounds towards a receiving station.
KLIP COLLECTIVE: MEADOW 1.0
Onto an undulating mist of smoke, Klip will project images of glowing, flowing dots and other graphic elements that evoke the patterns and movements of hundreds of fireflies. An audio track of crickets and other insects will accompany this display.