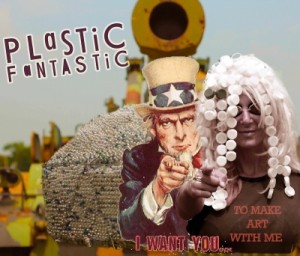 The collaboration between Diedra Krieger, a participating artist in the 40th Street Artist-in-Residence program, and community members made it possible to create something amazing at the corner of 49th and Chancellor Streets. Plastic Fantastic is a 16-foot geodesic dome covered in over 6000 recycled water bottles collected from residents and organizations.
The project's goal is to raise public awareness to such problems as access to clean water, the politics of water, environmental issues, recycling, self-care, and equity. The dome structure, which is a metaphor of liberated consciousness, was first built in 2007 and since then the Plastic Fantastic project has traveled to many locations, most recently to Salisbury University (in 2011).
Plastic Fantastic is a great community effort. Besides the artist and individual water bottle collectors, the installment at 49th and Chancellor is a joint collaboration among Huey School's after school program, Portside Art Center, University City District, 40th Street AIR, Mariposa's Food Justice and Anti-Racism (FJAR) Working Group, The Rotunda, Hector's Metal Shop, Inciting H, Planet Fitness, Bikram Yoga of Philadelphia, and Bartram's Garden.
The project will be on display through October 17 and this Friday (Oct. 12) everyone is invited to a public reception, beginning at 6:30 p.m. at the corner of 49th and Chancellor. As part of this project, there will also be a free film screening at the Lucien E. Blackwell Library (125 S. 52nd St) on Tuesday, Oct. 16, at 5:45 p.m. The film, Tapped, sheds light on the bottled water industry's impact on our health, economy, environment and more. Please RSVP to: education@mariposa.coop

To learn more about this project, visit Plastic Fantastic Facebook page.