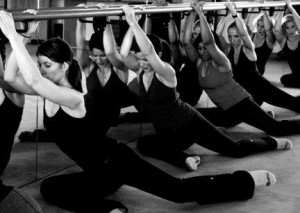 The new large, second-floor space at 4145 Chestnut Street already hosts Bikram Yoga and this week another fitness studio is opening there. Focus Fitness Studios, which is headquartered on the Main Line, is branching out to West Philly and inviting everyone to a Grand Opening of Barre Focus Fitness this Thursday (Nov. 1). The Grand Opening celebration includes a complimentary class beginning at 6 p.m. and all classes through Sunday, Nov. 4 are free!
"We are thrilled to be opening in this thriving West Philadelphia neighborhood," said co-owner Amy Feeney. "We are looking forward to sharing the barre workout with the colleges in the area and the community as a whole. Our classes are designed to be challenging for all fitness levels and abilities, from the collegiate athlete to the beginner."
Barre Focus Fitness is also committed to supporting local communities through such programs as donation-based classes, book clubs, and nutrition and health seminars.
The studio's signature offering, the BFF class, combines the most effective bodyweight exercises into one 60 minute power-packed workout using a traditional ballet barre. Most classes at the studio are accompanied by custom tracks spun by a local DJ. The studio can accommodate up to 25 students, and the adjacent lounge offers a peaceful place to change and prepare for class. Barre Focus Fitness carries snacks and water and also jewelry, accessories, and fitness apparel by local designers.
For more information, visit Barre Focus Fitness online at www.barreuniversitycity.com, on Facebook at www.facebook.com/barreuniversitycity, and on Twitter at @BarreUniversityCity.