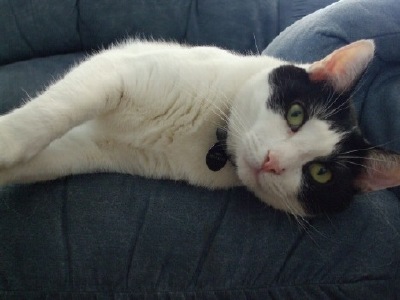 Update: Nibbler is still missing. Here's more information directly from the cat's owner:
"Nibbler has been missing from 49th & Larchwood since July. Numerous reports of possible Nibbler sightings range from 50th to 46th, and from Baltimore Ave to Pine St. Nibbler is a male, and was about 22 lbs when he went missing so this is pretty big cat. He had a collar and tag when last seen, but that may have slipped off. He has black spots on his back, a black tail, and white underbelly. His humans miss him very, very much and believe he is still wandering around West Philly. If you think you have seen him please let us know. Nibbler is micro-chipped."
Please call Doug at 215 909 2334 if you've seen Nibbler.