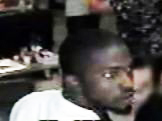 Police are still searching for a man who is wanted in a string of armed robberies around West Philly last week. He allegedly robbed a laundromat and nail salons along Chestnut Street, according to Det. Joe Murray of the Southwest Detectives.
The man is described as a black male about 20-30 years old and about 5-feet, 7-inches tall with short hair and a short beard. He has exhibited violent behavior during the robberies, Murray said.
Police are looking for him in connection with the following crimes:
• During mid-afternoon on July 30, a worker at the Emerald Laundromat said a man had been sitting on a chair in the establishment for about 30 minutes before the man pulled out a small black handgun and stuck in the worker's neck and demanded money. He fled with $350 from the register.
• On August 2 at about 11 a.m., a man entered the Myly Nail Salon at 6214 Landsdowne Ave. with a black handgun and demanded money. The man took an envelope from the counter with $100 along with a cell phone. Police say the man held the gun to the salon owner's head and said: "Shut up, do you want to die?" He then fled the store.
• About 90 minutes later on August 2, a man fitting the same description entered Tanya Nails at 5245 Chestnut St., put a gun to the owners head and demanded money. He took a bag containing $150 and pocket money from another witness and fled. That robbery was caught on video (see below).
• On August 3, at about 2:30 p.m. officers responded again to the Emerald Laundromat where a woman reported that a man with a small black handgun demanded her jewelry.