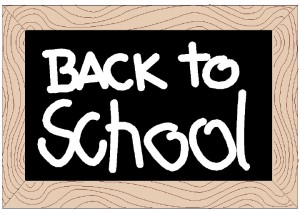 The new school year hasn't even started yet and already there is confusion. While the School District of Philadelphia has set the official date for new student registration as Aug. 20, at least two schools in West Philly are registering new students starting Monday, Aug. 13.
Henry C. Lea Elementary and Penn Alexander will accept new student registration beginning at 9 a.m. on Monday morning.
"They gave out the date late," said an official at Penn Alexander referring to the District's Aug. 20 date. "We're sticking with our original plan for the 13th."
Likewise, an official at Lea said, "the secretary will be here Monday morning registering students."
No one answered the phone at  A.D. Harrington, Samuel B. Huey, Alain Locke, Samuel Powel and Alexander Wilson. New students who plan to attend those schools should call to double-check on registration dates (see the phone numbers below).
Last year, the line for registration at Penn Alexander began at 7:30 a.m. the previous day.
Here is some information from the District's website:
Who needs to register?
• Philadelphia public school students who have moved to another city neighborhood over the summer.
• Children new to Philadelphia
• Children transferring in from private, parochial and charter schools
• Kindergarten students who were not pre-registered in the spring
What do you need to register?
• Parent/Legal Guardian must provide photo Identification (examples: Current PA Drivers License/Non-Drivers License or valid Federal, State or Municipal employment identification, Passport).
• Proof of Residency (examples: Deed, Original Rental Agreement/Lease (must be typed, signed by all parties and notarized), Current Voter Registration Card, Current Utility Bill, (e.g. PECO, PGW), Foster care and DHS letters are also acceptable for registration when student is in the care of a Foster/child care agency. Shelter placement or residency letters are also acceptable for homeless students).
• Proof of your child's age. Acceptable proof includes birth, baptismal or other religious certificates, a passport or immigration documents.
• Your child's Health Appraisal Forms and immunization records showing proof of the following inoculations: Diphtheria, Tetanus, Poliomyelitis, Measles, Mumps, Rubella (German measles), Hepatitis B, and Varicella (chicken pox).
• Your child's most recent report card and any other useful information (IEP, etc.) from the child's former school or school district.
More information:
• School catchment finder (this tool reflects the changes in catchment boundaries for Locke, Powel and Wilson that have resulted largely from the closure of Drew Elementary earlier this year).
• Information on voluntary transfers
• Information on free or reduced lunches
School information:
A. D. Harrington School
5300-34 Baltimore Ave
(215) 471 – 2914
www.philasd.org/schools/harrington
B. B. Comegys School
5100 Greenway Ave.
(215) 727 – 2162
Alexander Wilson School
1300 S. 46th St.
(215) 823 – 8206
Samuel B. Huey School
5200 Pine St.
(215) 471 – 2901
Henry C. Lea School
4700 Locust St.
(215) 471 – 2915
Penn Alexander School
4209 Spruce St.
(215) 823 – 5465
Alain Locke School
4550 Haverford Ave.
(215) 823 – 8202
Martha Washington Academics
766 N. 44th St.
(215) 823 – 8203
Samuel Powel School
301 N. 36th St.
(215) 823 – 8201