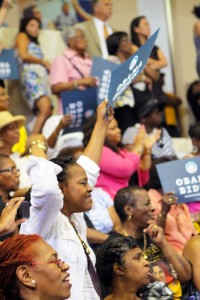 About 1,500 cheering Barack Obama supporters packed the Bobby Morgan Arena at the University of the Sciences on Thursday for a rousing get-out-the-vote speech from First Lady Michelle Obama.
Obama was preaching to the proverbial choir in West Philly, a longtime Democratic stronghold. And her speech, aimed at rallying campaign supporters, even felt like a Sunday morning sermon. Obama punctuated a few of her most resonant points – on things like universal health care and education equity – with "Can I get an Amen?"
Obama's day-long swing through eastern Pennsylvania will also take her to Montgomery County and Bethlehem to help keep Pennsylvania behind President Obama, who won the state in 2008.
"It's all on the line," she said. "Everything is at stake. That's why we're here."