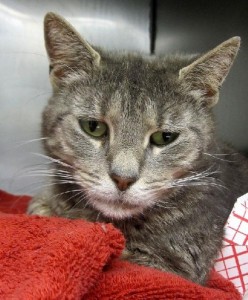 This information has been submitted by local feline rescue organizations, including City Kitties. This is an urgent request from people who are working hard to save lives of stray cats and kittens in this area. Animal shelters and foster homes are currently full. Please read this to learn how you can help.
Many people believe that if they drop off animals at the shelter or call ACCT about a stray, feral or injured cat or kitten, ACCT will find that animal a home with a "happy ever after" ending. This is rarely the case, and the sad truth is that any animal – especially cats- who are brought to ACCT run a high chance of being euthanized within a week due to a lack of space. There are many amazing people who work at and with ACCT trying to find homes for these animals, but the clock works against everyone. While West Philly rescues work with ACCT to "pull" cats from the ACCT shelter to prevent their being euthanized, the problem is larger than any one rescue or even city shelter can handle. It truly takes a community effort to stop animals from dying unnecessarily (both on the street and in the shelter).

While West Philly is lucky to have two amazing rescue groups working to reduce the number of stray and feral cats in our neighborhood, they need your support. The number of cats that they are able to help is directly tied to their resources. For example, all City Kitties foster homes are currently completely full, with a wait list (and has been for weeks) – which means that they cannot accept any new rescues until a current foster cat is adopted or they have a new foster home. Foster homes, adoptions, and donations are essential for these rescues to be able to help the cats on the streets and in the shelters.

Here's how you can help:

- Have the cats hanging out on your block spayed or neutered. For about $25 and a few hours, you can single-handedly prevent dozens of litters of homeless kittens (City Kitties loans traps for TNR (Trap-Neuter-Release) to individuals interested in this, and Project MEOW may be able to provide support with large scale TNR projects).

- Adopt from rescues or shelters. Buying pets from commercial vendors not only makes one less home for a rescued animal, many of the animals are sick, and most come from cruel breeding "mills." For every animal you adopt from a rescue, you actually save two lives – the life of that animal, and the life of the another who gets to take its place in that foster home.

- Foster. Fostering an animal literally saves their life. Rescues like City Kitties and Project MEOW literally would not be able to operate without foster homes, and the number of cats that these organizations are able to help is limited by the number of foster homes they have available. Sharing your home with a foster animal is a great way to teach your kids about compassion and making a difference, and is great karma!

- Donate. Money cannot buy foster homes or forever homes, but it does allow rescues to provide necessary vet care to the animals rescued. Both City Kitties and Project MEOW provide medical care for rescued cats prior to their placement in a foster or forever home – they get them tested for common diseases, treat for fleas/worms, vaccinate and spay/neuter. These costs add up quickly and adoption fees only offset part of these costs.

- Educate. There are a lot of myths about stray and feral cats. For example, many people believe that if people did not feed stray or feral cats, they would cease to be a problem. In reality, proper care of stray and feral cats (TNR and ongoing feeding) is the only way to permanently to reduce the number of stray and feral cats. TNR and dedicated care of stray and feral cats reduces: the amount of cat fights, un-neutered males spraying their territories, the number of sick and injured cats, and greatly reduces the overall population of stray and feral cats. Removing or not feeding the animals only punishes those individual animals and does nothing to stop the problem.

- Share on FB, Twitter, etc. Even if you are not in a place to foster, adopt or donate, you can still help! Social media has been great for finding animals loving forever homes. Consider posting your favorite foster animal to your social media of choice to help spread the word that they need a home. Doing this helps rescues reach people that they are not able to rescue on their own.
For more information on how to help here in West Philly, check out City Kitties at www.citykitties.org or Project MEOW at www.petfinder.com/shelters/PA599.html. And be sure to stop by Baltimore Pet Shoppe (4532 Baltimore Ave.) and say hello to the cats in the window – Both Project MEOW and City Kitties feature cats and kittens who are in search of their forever homes.