A neighbor is looking for a permanent home for her foster dog:
"This is Champ, my foster dog. He is a one in a million kind of dog. I have tried to describe here how sweet and cute and goofy he is but you might just have to meet him to find out how special he is!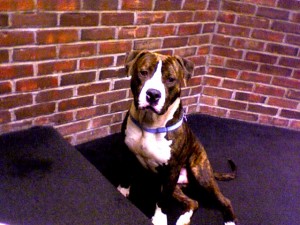 First off, he is very handsome. He has a giant smushy head and big mitten-paws and a fancy striped coat with a white ring around his neck. There is something about him that makes everyone want to meet him. It takes us forever to go on a walk because so many people want to stop and pet him. He loves the attention but he is polite and gentle. I think he has a lot of potential as a therapy dog. He walks very nicely on leash, right next to your side with a loose leash. Sometimes he wants to stop and look at things but he doesn't yank the leash or pull ahead of you. Oh, and he is housetrained!
At home, Champ is super calm and mostly sleeps. He is an easy, low energy dog. He is a huge snuggle bug and wants to be in your lap, but he is also fine to chew on a bone or sleep in his crate. He goes into the crate for a treat and he is usually quiet even if there are people or dogs around while he's in there. He sometimes cries for a minute but he doesn't keep it up. He comes to work with me and is an angel there. He just plays with his toys, sleeps, or gives my co-workers a stress break. He is goofy and a little foolish and makes everyone laugh and smile when they are around him.
Champ is amazing with other big dogs. My own dog is really picky/bossy with other dogs and he does great around her. He respects corrections from other dogs and doesn't invade their space, but he still likes to play! I have not had him around small dogs or cats so I am not sure how he feels about them!
Champ is such a pleasure to have as a foster dog. The only things that make him not completely perfect are that he is a chewer (but he responds well to a verbal correction and doesn't guard anything that he chews, so it's no big deal), and that he is a picky eater and sometimes needs some encouragement to eat his food. We're still figuring out what foods he likes to eat. Those are seriously the only things I can find remotely "wrong" with him!
Champ is healthy aside from a mild case of kennel cough that he is recovering from. He is already neutered, microchipped, and fully vaccinated for the next year.
His stats:
Age: 4
Sex: Male/Neutered
Breed: To me he looks like a mix of Cane Corso, Pit Bull, and maybe American Bulldog. Who knows though!?
Weight: 74 pounds; he should gain 5-10 pounds though.
ACCT Number: A16225742
At the shelter because: He got lost and was rescued by the police and brought to ACCT!"
If you would like to meet Champ please email Natalie at davidna@vet.upenn.edu.