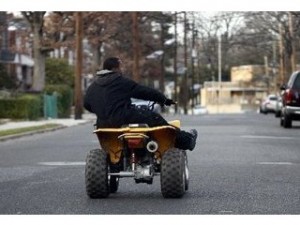 Police are seeking residents' help getting those pesky – and often dangerous – dirt bikes and ATVs off the streets.
Most of these things are illegal and they become more pervasive in the summer months, prompting concern across the city, including residents of West Philadelphia. Police are asking that if you see one on the street to call 911.
Here are a few other things to know when reporting an illegal use of these vehicles:
"Be prepared to provide a description of the vehicle and its operator," according to Philly Police Blog. "Understand that these bikes and ATVs are moving vehicles and are often not in the area when an officer responds. Officers are trained to evaluate the danger that stopping these vehicles will pose to the public before attempting to pull it over. Also, it is important that citizens make every attempt to stay out of the way of these violators to avoid a potentially dangerous situation."
You can also help the police if you can provide information about who has this vehicle, where it is stored, or if it is stolen. You can submit this information as a tip. You can send your tip as a text message to short code PPDTIP, email it to tips@PhillyPolice.com, or call 215-686-TIPS(8477).