Meet Rex, an adorable Staffie/Terrier mix. Poor Rex's owner was deployed and had no one to take care of this energetic boy. Rex is only 6-12 months old, energetic, active and super friendly. He is a very good boy in his kennel at the shelter but instantly perks up once outside.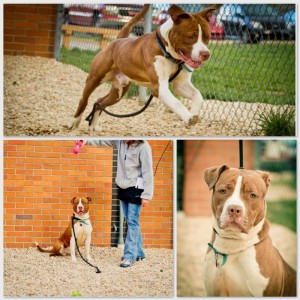 He is big and strong and does need some leash and general manners. He did very well in his dog meets and even ignored a dog who was not being very nice to Rex during their meet. He is very playful, loves fetch and toys. He may be a big boy but he's still very much puppy at heart with typical puppy behaviors.
He showed no interest in cats during cat test but can be re-tested upon a request. Are you looking for your new best bud? Rex will definitely steal your heart! More photos of Rex can be found here.
This dog is located at 111 West Hunting Park Ave in Philadelphia and is available for adoption or foster care (dog meet dog required; kids under 13 must meet and no kids under 6). Adoption hours are 1-8 Monday through Friday and 10-5 on weekends. If you are interested in foster care, the hours are 9-6 seven days per week. For more information about ACCT please visit www.acctphilly.org or go directly to the shelter.