Mariposa Food Co-op celebrates its new store at 4824 Baltimore Avenue with a Grand Opening ceremony, and a day of food, special sales & sampling, and fun for the whole family this Saturday, April 21. The ceremony will feature Congressman Chaka Fattah and other special guests.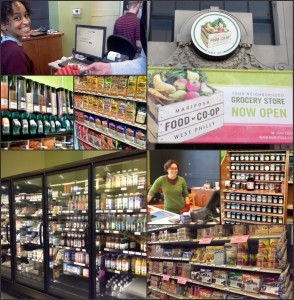 Mariposa has been open to the public for shopping in its new location at 4824 Baltimore Avenue since March 17, and the response has been great. "Since our initial opening, we've had 151 new members join, bringing our member count to over 1,300," says Mariposa's Marketing and Outreach Coordinator Chakka Reeves. "This event is our way of thanking the many people and organizations who made our expansion possible."
During the ceremony, Fattah will talk about the National Cooperative Development Act, legislation that calls for increased support for cooperative businesses to encourage economic growth and job creation. Mariposa expansion, Reeves says, "has created eight new jobs and leveraged $2.5 million into the local economy."
The Grand Opening ceremony will take place from 11-11:45 a.m. The special sales and samples will be throughout the day and there will also be an opportunity to sign up to become Mariposa Food Co-op members. For more information on how to join Mariposa, call 215-729-2121 or go to http://www.mariposa.coop/join.