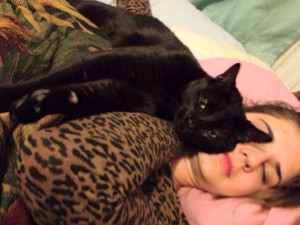 Update (05/03): Mario has been found and is back home (see comments).
Mario is about 5 years old, 20 lbs, and totally black. He is often very jumpy and scared (even inside with folks he knows). He will hide.
Mario loves food, maybe too much. He will be very cautious with new environments even with food available.
Once comfortable Mario will cry your ear off. He loves to narrate his every move with a meow. He is very friendly.
If found please contact Nick Hunter at nickehunter@gmail.com or by phone at 804-519-5224.