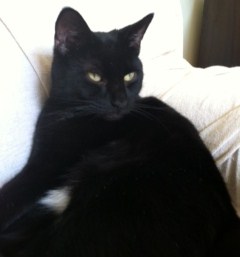 This week's featured cat is Tessa. She is a perfect starter cat. She is happy-go-lucky and laid back. She seeks out the company of people and loves to be stroked, but she does not demand constant attention. She is happy to lay nearby while her family reads, plays, cooks or watches TV. Because Tessa was found in an abandoned lot as a skinny, friendly mama with six kittens, she now loves to eat and sports a well-padded figure. Although Tessa is no longer a kitten, she is still playful and enjoys toys. She gets along with all the cats in her foster home, though she has not had any exposure to dogs.
All of Tessa's kittens have been adopted except Purple. Purple, who is about 6 months old, is a bit shy. When she was first found she hid most of the time. But now, like her mom, she likes to be around people and welcomes petting and playing. She will need a bit of extra patience and TLC from her adoptive family.
Tessa and Purple are both spayed, vaccinated, dewormed, FIV/FeLV negative, flea treated, microchipped and ready for loving homes! Anyone willing to adopt both mom & daughter will be offered a reduced adoption fee. Please contact projectmeowadoptions [at] gmail.com. If you want to meet Tessa, she's currently at Baltimore Pet Shoppe (4532 Baltimore Ave).