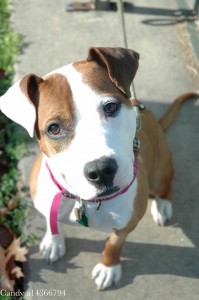 This week's adoptable dog is Candy who badly needs a home for Christmas. She is just a pup around 45 lbs. and already spayed thanks to her former friends. She is a terrier/pit bull mix, but please don't hold it against her if you were looking for something else. You will find her to be a very patient companion.
You can teach Candy anything you want with a treat in hand, but she sometimes gets distracted when other dogs are around. She's still learning how to socialize and may be a little pushy when it comes to play. She also doesn't like to play with cats, but she will get along with you and all of your friends.
Candy is part of the ACCT Pen Pal Program. She has a volunteer dedicated to helping her find her a home. The volunteer spends time with her on a regular basis, teaches her the basics of being a great dog and helps her stay happy while living at the shelter. She can also provide post-adoption support!
If you are interested in meeting Candy, please email her Pen Pal at: darcy.wilkins [at] gmail.com. For more information on how to adopt/foster Pen Pal dogs go here.