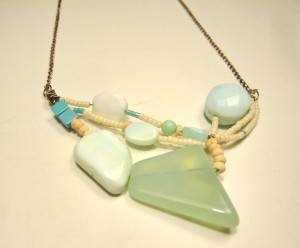 Here's another opportunity to shop local for the holidays. The University City Arts League (4226 Spruce Street) is opening its annual Holiday Craft Show and Sale on Friday, Dec. 2.
Over 30 artists and crafts people will be selling their work, including jewelry, hand-painted silk scarves, pottery, hand-made gift cards, small paintings and prints. All work is hand-made and reasonably priced.
The artisans at the Arts League Crafts Show include Kelly Ann Mifflin (jewelry, pictured), Ken Beidler, Priscilla Sepe, Art Cohen, Dave (Fatman) Fowler (pottery), and Aubrey Levinthal (paintings).
The show is running December 2 through December 15 with the following hours: Dec. 2 & 3: 6 – 9 p.m., daily hours: 3 – 9 p.m., weekend hours: noon – 6 p.m.
60 percent of the proceeds will go to the artists and the remainder to support community arts programs provided by the Arts League.