We would like to add two more events to the list of Halloween happenings in our area.

Monday, October 31

Halloween Haunted Garden
4611 Springfield Ave.
5 – 7 p.m.
All ages, free
This annual Halloween party features 10+ spooky "Sets" with five being "Treat" stations, over 2,000 full sized candy bars, about 1,600 hugs and thousands of fruits, pretzel bags and bite-sized treats. The PHILLY THRILLERS will entertain the folks who are waiting in line.
NOTE: Volunteers are needed to hand out treats and tricks. Anyone who is free Monday from about 4:30-7:30 p.m. and has a warm costume, can help deliver the candy. Treat delivery starts at 5 p.m., so volunteers must commit from about 4:30 to about 7:30 p.m. At least two people are assigned to a station, so come with a friend or make new ones at the event.
You can also help with decorating needs today until 5 p.m. and doing a run-through in the early Monday afternoon, to turn on machines, check power, batteries and fluids, and 'break' the glow sticks into eerie perfection.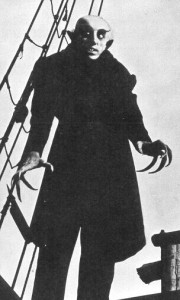 Nosferatu: A Symphony of Horror
University of Pennsylvania – Irvine Auditorium, 3401 Spruce Street
7:15 p.m.
Free, open to the public
Following Penn's annual Halloween concert tradition, the 1922 German classic movie "Nosferatu: A Symphony of Horror" is screening Monday night, accompanied by a musical score performed by famed organist Peter Edwin Krasinski on Irvine's 10,731-pipe Curtis Organ. For more information go here.