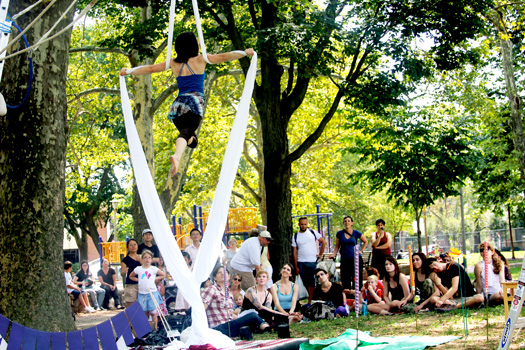 The tiny circus came to Clark Park this morning. Performers from the movement arts group Tangle strung a trapeze, hoop and long pieces of fabric called "silks" from a large tree between the bowl and playground and entertained dozens of people young and old.
The West Philly Tool Library supplied the ladder, a key piece of equipment when you do acrobatics while hanging from a tree.
You may have seen the tiny circus in this spot before. This time the performers were promoting their upcoming show "Ampersand" at Philly Fringe on Sept. 8-9 at Philadelphia Soundstages at 1600 N. 5th St. Ampersand combines "trapeze aerial rope and partner acrobatics with power narratives of belonging."
Their Fringe shows are:
• Sept. 8 – 7:30 p.m.
• Sept. 9 – 6:30 p.m. and 9 p.m.
Check out the slideshow below for more photos.