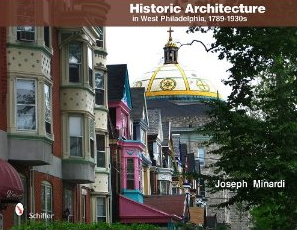 Philadelphia photographer Joseph Minardi has a new book out on the architects and architecture of West Philly.
Historic Architecture in West Philadelphia, 1789-1930s includes more than 500 images of the buildings and houses we walk by every day. The book chronicles the transition of West Philadelphia from open farmland to the streetcar suburb. It also includes vignettes of the architects who helped shape the area, from Powelton Village to Cedar Park.
Minardi is the 2007 recipient of the Preservation Initiative Award from the University City Historical Society.
The 192-page book retails for $50 from the publisher here. It is also available at a significant discount at Amazon here.
If you pick it up, stop back and drop us a comment below with your impressions.