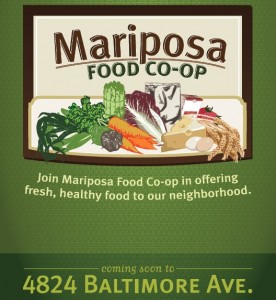 There aren't too many chances these days to have a say in where you buy your food in West Philly. Actually, there may be only one chance. Mariposa Food Co-op launched a new membership campaign today that will provide that chance.
Mariposa will move to a new building next fall that increases its size five-fold, making it the only community-owned grocery store in West Philly. We're talking fresh produce, fresh fruit and staples we all need – all on Baltimore Avenue near 49th Street. West Philly needs to step up ownership – that means becoming a member. Just to be clear, folks who aren't members can shop at the new store too. But membership, as they say, has its priveleges. Here they are:
• Members get a discount and members who chip in to help run the store get an even bigger discount.
• As a member you get a voice in how things are run.
• Finally, and maybe most importantly, becoming a member means that you are helping to create a business that we all have a stake in.
Peter Collopy, a Mariposa member explains: "Membership in Mariposa is about more than getting a discount," said Collopy. "It's an opportunity to share ownership of an important resource for our community."
You can join online here.