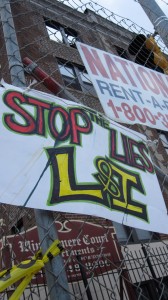 Two residents of the Windermere Court Apartments have filed a class action lawsuit against the building's owners and management.
The suit claims that the tenants of the building at 48th and Walnut suffered economic losses and emotional distress because of the "negiligence, carelessness and/or recklessness" of the building's management company, Windermere Court Management Corp., and its owners, David and Sam Ginsberg. Specifically, the suit alleges that the building was not equipped with proper fire detection and suppression equipment – things like smoke alarms and sprinklers – and that the management failed to inspect the building regularly to ensure that it complied with fire codes.
The plaintiffs in the case are Theodore Schall, who lived in an apartment very close to where the Jan. 10 fire began, and John Brendan (J.B) Farley, who has been a key organizer of the recent protests to allow residents to enter the building to retrieve their pets and belongings.
All the residents of the building have been named int he lawsuit and it is their choice whether to opt out.
As the lawsuit was filed today, residents lined up at the building to be given garbage bags with belongings from the apartments. Each resident who arrived at the building today was asked to list the items they wanted from their apartment. The items had to fit in two large garbage bags. Residents were escorted one-by-one through a gate to claim their belongings.
The demolition of the building is set to begin tomorrow.