Saturday, Oct 25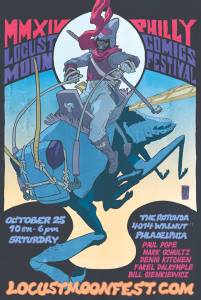 Locust Moon Comics Festival
If comics is your thing (or might be your thing or was your thing or is your partner's thing) get yourself over to The Rotunda on Saturday for the third annual Locust Moon Comics Festival. This thing will include some fine independent cartoonists and creators, including: Paul Pope (Battling Boy), Bill Sienkiewicz (Elektra: Assassin), Dean Haspiel (The Alcoholic), Mark Schultz (Xenozoic Tales), Denis Kitchen (The Oddly Compelling Art of Denis Kitchen) and Farel Dalrymple (The Wrenchies), as well as local stars like Box Brown (Andre the Giant: Life and Legend), Dave Bullock (Justice League: The New Frontier), and J.G. Jones (Wanted).
The festival will include workshops, panels and discussion on the art, history and business of comics.
Several artists will debut new work at the festival, including the Locust Moon work Little Nemo: Dream Another Dream – a kickstarter funded Winsor McKay Tribute.
The festival runs from 10 a.m. to 6 p.m. on Saturday. Entrance is by optional donation. No advanced tickets are needed. Kids 13 and under are admitted free. Here is a schedule.  Continue Reading