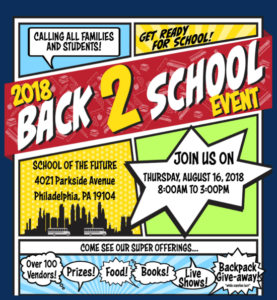 The summer break for Philadelphia schoolchildren is coming to an end, as the 2018-2019 school year for public schools is set to begin on August 27. This Thursday (Aug. 16), the School District of Philadelphia is hosting its annual Back-to-School event at the High School of the Future (4021 Parkside Ave), from 8:00 a.m. to 3:00 p.m.
The first 8,000 students will receive free book bags filled with school supplies. The event will also feature an on-site free Cuts and Curls salon, student enrollment services, children's eye testing, on-location dental services, information tables, educational workshops, free giveaways and a fun Kids Zone.
For more information, please call the Office of Family and Community Engagement at (215) 400-4180 (option 5) or visit the School District website.